Clay Date
Give It A Spin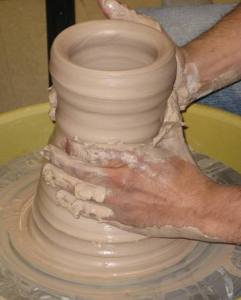 Clay Dates are designed for couples, friends, or small groups that want to do something different. We want you to learn what it takes to throw a pot, but it's just as important to us that you have a good experience.
This 2 hour class will give you the chance to try out a potter's wheel and get your hands dirty, while our instructor helps you to make your own unique pot. We provide everything you need. All you have to do is come ready to have a good time.
We will finish and fire one piece per person in the glaze of your choice. Work will be finished and ready for you to pick up in approximately 2 weeks.
You do not need to be romantically involved to register for a Clay Date. In addition to couples, Clay Dates are perfect for:
Friends
Family Fun
Birthday Parties, Showers, & Small Reunions
Corporate Outings
Gift Certificates Available
Introduce your friends to the joys of making pottery. It's the perfect gift for someone who has everything.
Call our office at 612-852-2787 to purcahse.
Please remember the following rules:
Classes are adults only (18+)
We are not currently allowing children of any age to participate in classes.
Classes have a maximum attendance of 8 students.
Face masks are optional for vaccinated students.
If worn, they need to cover your nose and mouth.
Hand sanitizer will also be available in the classroom
We no longer allow you to bring food and beverages
We do have drinking fountains, but you may prefer to bring your own water bottle.
We are committed to cleaning the studio daily to keep surfaces sanitized.
Please wear clothes and shoes you can get dirty, trim your fingernails, and leave your watch and rings at home. Clay is messy and we don't want you to lose anything. If you have long hair, you will want to wear it back.
Cost
$80 per person *
* Includes the cost of having one piece glazed and fired.
Prices will be going up to $90 per person effective October 1, 2023. Register now to lock in your class at the current pricing.
Dates & Times
Classes are small and can fill quickly. Please use our online booking to check for availability or call us at 612-852-2787 if you have any questions.
We are not currently booking classes outside our posted schedule.
Cancellation Policy
If you need to reschedule, please contact us as soon as possible. We will reschedule once at no additional cost. There are no refunds if you cannot reschedule.