Beginning Pottery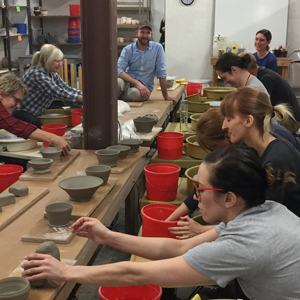 Registration for January Classes will be after Thanksgiving. Make sure you are signed up on our Mailing List to get class registration announcements. We will send out an email announcing what classes will be available and when registrtaion opens so you can plan accordingly.
10 week Beginning Pottery Classes
Fired Up Studios currently offers 10 week Beginning Pottery classes for those who have never worked on a pottery wheel or who just want to brush up on their skills. Students who know the basics but prefer to continue working with an instructor are also welcome.
Each class meets once a week for 2½ hours to teach the basics of wheel thrown pottery: wedging, centering, pulling, trimming, glazing, and basic studio etiquette. We will also cover basic hand-building instruction.
The cost of class includes a $50 key deposit, which allows students 24 hour access to practice what they are learning. $50 will be refunded at the end of class upon return of the studio key.
Included in the cost is everything you need while you are in class*: basic pottery tools, buckets, and towels, 25 lbs. of clay, limited glaze firing, and 24-hour open studio time to practice what you are learning.
Class Size: Minimum 4 / Maximum 9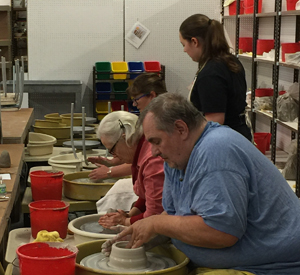 Beginning Pottery Class Rates **
| | |
| --- | --- |
| 10 Weeks | $550 - includes refundable key deposit of $50 |
While we have designed the cost of these classes to be all inclusive, we have found that students often wish to produce more work than what can be created with the materials provided. Rather than restrict how much you can make, we allow you to make as much as you would like for an additional fee.
Possible Additional Fees **
Clay: $20 per 25 lb. bag
Glaze Firing (Cone 6 or 10)
Base Rate: $12 per square foot
Maximum size: 2 feet in any dimension
Add $5 per item over 9" tall but under 12" tall
Add $10 per item over 12" wide/tall but under 18" wide/tall
Add $15 per item over 18" wide/tall but under 24" wide/tall
Stuffers (items under 3" in any dimension): 1/4 square allowed at no additional fee. Add $1 per additional 1/4 square.
Schedule **
Which class should you take?
When do you want to start? What day of the week works best for you? Would you prefer an afternoon class or and evening class? Answer these questions, and see if we have something that fits.
To register use our online booking calendar below. When registration opens, classes fill extremely quickly. If you have any questions, please call us at 612-852-2787.
Gift Certificates Available
Introduce your friends to the joys of making pottery. It's the perfect gift for someone who has everything.
Call our office at 612-852-2787 to purcahse.
Restrictions/Rules
Please remember the following rules:
Classes are adults only (18+)
Classes have a maximum attendance of 9 students
Face masks are optional.
Hand sanitizer will also be available in the classroom
We are committed to cleaning the studio daily to keep surfaces sanitized.
Wear clothes that you can get dirty, this includes shoes.
Review our Classroom Rules and Responsibilities
Cancellation Policy
If you cancel:

1 week prior to the 1st class session, you will be refunded for the class fee minus a $50 administration fee.
If you cancel before the 2nd class session, the administration fee increases to $100. The remaining class fee will be refunded to you.
No refunds will be given after the start of the 2nd class session.

If Fired Up Studios cancels the class or you send your registration and the class fills before it is received, you will be given the option of registering for the next Beginning Pottery class or receive a full refund.
* Pottery tools, buckets, and towels are available for you to use while you are enrolled in a class, but are not yours to keep. Please leave your tools at Fired Up Studios for other students to use.
** Class schedules and pricing are subject to change. The listed class rates do not include the online booking fees.