About Us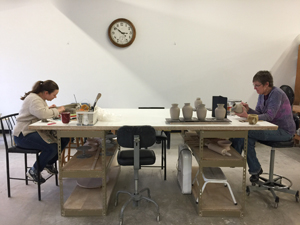 Fired Up Studios was created in 1998 to provide the space and equipment to allow clay artists and potters of all levels to explore their creativity and work in a supportive environment. Fired Up offers a variety of options including studio membership, firing membership, and instruction.
Our Mission
Our mission is for our customers to have fun and leave Fired Up in a better mood than when they arrived!
Our History
The original concept of Fired Up Studios was to meet the needs of hobbyist potters by developing a place where they could create and get their work fired. Our mission statement (which always got a few giggles) was for our customers to have fun and leave in a better mood than when they arrived. This meant creating a place that was comfortable, non-judgemental, and respectful of all the creations our members made.
Since the spring of 1998 when we first opened our doors, we have grown and changed a lot. We are continuously evaluating the services we offer with what our customers are asking for.
In the beginning, our primary focus was on providing a place to create and fire pottery, but we quickly learned that our members wanted a place to display their work. So we added a members gallery (open 7 days a week) and started our Annual Holiday Open House. We kick-off the holiday shopping season with an annual celebration which always includes a silent auction where the proceeds are given to benefit a deserving non-profit organization.
Our gallery customers wanted to know how they could learn to make pots of their own, and soon we were also offering Beginning Pottery classes, and Clay Dates were added for those customers looking for an interesting evening out or just wanting to give pottery a spin.
Our membership has grown and now includes students, hobbyists and professional potters. Our space has grown from 2400 square feet to our current 7200 square feet, and we have added wheels, glazes, kilns and other equipment as necessary to meet the needs of our members and students. What has not changed is our mission: for our customers to have fun and leave in a better mood than when they arrived. And according to our members, we are doing a good job.
In the fall of 2016, we moved from Northeast Minneapolis to Golden Valley, MN. Our space may have changed, but our services have stayed the same. We are excited about what will happen in our new space.