Exploring Surface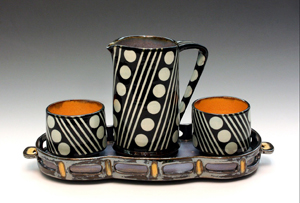 In this class, we will explore the potential of colored slip, underglaze, stains and wax resists applied to various stages of greenware and bisqueware through a variety of surface techniques. In this four night class you will learn how to use stencils, mishima (inlay) on leather hard and bone dry work, sgraffito and wax resist techniques on both flat slabs, and thrown or hand-bulit forms. Each class meets once a week for 2½ hours.
This class is designed for students with basic pottery forming skills. Students will need to come to each class with pieces ready for decoration. Over the course of 4 weeks you will need 2-4 leather hard, 2-4 bone dry and 2-4 bisque ware pieces to experiment with the techniques.
Included in the cost is: buckets, and towels, 25 lbs. of clay, 1 free square of glaze firing, and open studio time during our office hours to practice what you are learning. Fired Up Studios will have some tools available for use during class, but we recommend you provide the following:
Hake Paintbrushes (Variety of sizes)
Small soft bristled paintbrush
Small carving tools (Kemper Mini Ribbon tools are the best)
Scissors
Exacto/extra blades
Small sponge
Sharpie/pencil
Small containers with lid for slip (yogurt/cottage cheese containers work great)
Class Size: Minimum 4 / Maximum 10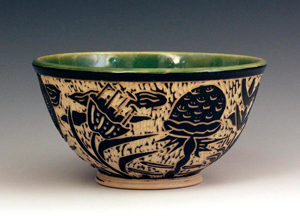 Class Cost **
While we have designed the cost of these classes to be all inclusive (except for the suggested tool list above), we have found that students often wish to produce more work than what can be created with the materials provided. Rather than restrict how much you can make, we allow you to make as much as you would like for an additional fee.
Possible Additional Fees **
Clay: $18 per 25 lb. bag
Glaze Firing (Cone 6 or 10)
Base Rate: $12 per square foot
Maximum size: 2 feet in any dimension
Add $5 per item over 9" tall but under 12" tall
Add $10 per item over 12" wide/tall but under 18" wide/tall
Add $15 per item over 18" wide/tall but under 24" wide/tall
Stuffers (items under 3" in any dimension): 1/4 square allowed at no additional fee. Add $1 per additional 1/4 square.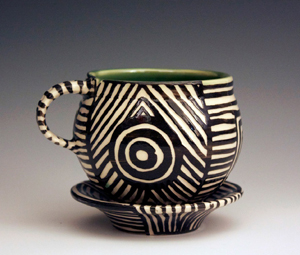 Gift Certificates Available
Introduce your friends to the joys of making pottery. It's the perfect gift for someone who has everything.
Schedule **
If you have questions, please call us at 612-852-2787.
Restrictions/Rules
Classes are adults only (18+)
The class cost must be paid in full when you register.
Wear clothes that you can get dirty, this includes shoes.
Review our Classroom Rules and Responsibilities
Cancellation Policy
If you cancel:

1 week prior to the 1st class session, you will be refunded for the class fee minus a $50 administration fee.
If you cancel before the 2nd class session, the administration fee increases to $100. The remaining class fee will be refunded to you.
No refunds will be given after the start of the 2nd class session.

If Fired Up Studios cancels the class, you will be given a full refund.
* Pottery tools, buckets, and towels are available for you to use while you are enrolled in a class, but are not yours to keep. Please leave your tools at Fired Up Studios for other students to use.
** Class schedules and pricing are subject to change. The listed class rates do not include the online booking fees.