Beginning Handbuilding Pottery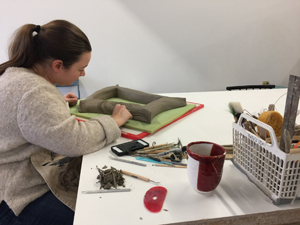 Join us for a fun and relaxing 4-week beginning handbuilding course. In this course, we will cover basic techniques of hand-building including soft and firm slab construction using templates and slump molds. We will utilize surface decorating techniques like adding hand-built accessories such as handles, knobs and feet to forms. We will also experiment with texture using found objects, stamps and fabric.
Each class meets once a week for 2½ hours and will begin with a sample project demonstration followed by time to work on your own project. You'll have the option of either making the sample project, or creating your own design using the techniques demonstrated. Your imagination is the limit!
Although this is a beginning level class, it's appropriate for all levels of experience, more advanced students will receive technical assistance and feedback as desired.
Included in the cost is everything you need while you are in class*: basic pottery tools, buckets, and towels, 25 lbs. of clay, 1 free square of glaze firing, and open studio time during our office hours to practice what you are learning.
Class Size: Minimum 4 / Maximum 8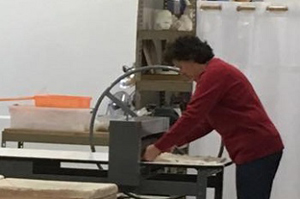 Class Cost **
While we have designed the cost of these classes to be all inclusive, we have found that students often wish to produce more work than what can be created with the materials provided. Rather than restrict how much you can make, we allow you to make as much as you would like for an additional fee.
Possible Additional Fees **
Clay: $18 per 25 lb. bag
Glaze Firing (Cone 6 or 10)
Base Rate: $12 per square foot
Maximum size: 2 feet in any dimension
Add $5 per item over 9" tall but under 12" tall
Add $10 per item over 12" wide/tall but under 18" wide/tall
Add $15 per item over 18" wide/tall but under 24" wide/tall
Stuffers (items under 3" in any dimension): 1/4 square allowed at no additional fee. Add $1 per additional 1/4 square.
Gift Certificates Available
Introduce your friends to the joys of making pottery. It's the perfect gift for someone who has everything.
Schedule **
If you have questions, please call us at 612-852-2787.
Restrictions/Rules
Classes are adults only (18+)
The class cost must be paid in full when you register.
Wear clothes that you can get dirty, this includes shoes.
Review our Classroom Rules and Responsibilities
Cancellation Policy
If you cancel:

1 week prior to the 1st class session, you will be refunded for the class fee minus a $50 administration fee.
If you cancel before the 2nd class session, the administration fee increases to $100. The remaining class fee will be refunded to you.
No refunds will be given after the start of the 2nd class session.

If Fired Up Studios cancels the class, you will be given a full refund.
* Pottery tools, buckets, and towels are available for you to use while you are enrolled in a class, but are not yours to keep. Please leave your tools at Fired Up Studios for other students to use.
** Class schedules and pricing are subject to change. The listed class rates do not include the online booking fees.