Clay Date
Give It A Spin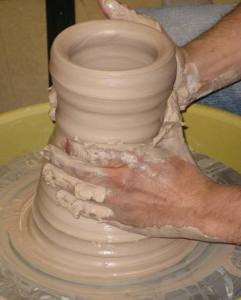 Clay Dates are designed for couples, friends, or small groups that want to do something different. We want you to learn what it takes to throw a pot, but it's just as important to us that you have a good experience.You will get a chance to try out a potter's wheel and get your hands dirty, while our instructor helps you to make your own unique pot. We provide everything you need. All you have to do is come ready to have a good time, and remember to wear clothes that can get dirty (this includes shoes).
We will finish and fire one piece per person in the glaze of your choice. Work will be finished and ready for you to pick up in approximately 2 weeks.
You do not need to be romantically involved to register for a Clay Date. In addition to couples, Clay Dates are perfect for:
Friends
Family Fun
Birthday Parties, Showers, & Small Reunions
Corporate Outings
Please feel free to bring a beverage and snack of your choice. (Wine or beer is okay.)
Maximum Class Size
8 people
Gift Certificates Available
Introduce your friends to the joys of making pottery. It's the perfect gift for someone who has everything.
Cost
$75 per person *
* Includes the cost of having one piece glazed and fired.
Group Discounts
6 - 10 people: $50 per person
Available when you pay for the entire group at the time of registration.
Dates & Times
Clay Date classes are small and availability can change quickly as classes fill or people reschedule. Please have a backup date in mind in case your first choice is not avaialbe.
Please call 612-852-2787 to make a reservation. Have your credit card ready for payment. Clay Dates are available at the following times and run for approximately 2 - 2½ hours.
Friday at 6:00 p.m.
Saturday at 6:00 p.m.
Sunday at 2:00 p.m.
If you would like to schedule a Clay Date at another time, you date will be considered an Exclusive Date (see below), and you will be charged an additional $75 fee at the time of registration. Please contact us to make arrangements, and we will do our best to make it happen.
Exclusive Date:
If you would like to reserve an exclusive date, there is an additional $75 fee at the time of registration. If you register for an exclusive date, other couples or groups will not be added to your class.
Restrictions/Rules
Most classes are adult only (18+).
Children (13+) may be accompanied by an adult in our Sunday afternoon classes, with no more than 2 children per adult.
The class cost must be paid in full when you register.
Wear clothes that you can get dirty, this includes shoes.
Cancellation Policy
If you need to reschedule, please contact us at least 1 week prior to your date. We will reschedule once at no additional cost. There are no refunds if you cannot reschedule.